Lucky Obsidian Bracelet
Sale price Price $19.95 USD Regular price $36.28 USD Unit price / per
FREE ONE

FOR THE

FIRST FIVE ORDERS

EVERY DAY!

OVER 1500 ORDERS LAST MONTH! THANKS TO EVERYONE FOR BEING PART OF THE FAMILY!

🎁 Participates on our BUY 2 GET 1 FREE sale
✔ Buy 2 Get 1 FREE - Send 3 items.
✔ Buy 4 Get 2 FREE - Send 6 items.
✔ Buy 6 Get 3 FREE - Send 9 items.
You can mix different colours from our Bracelets.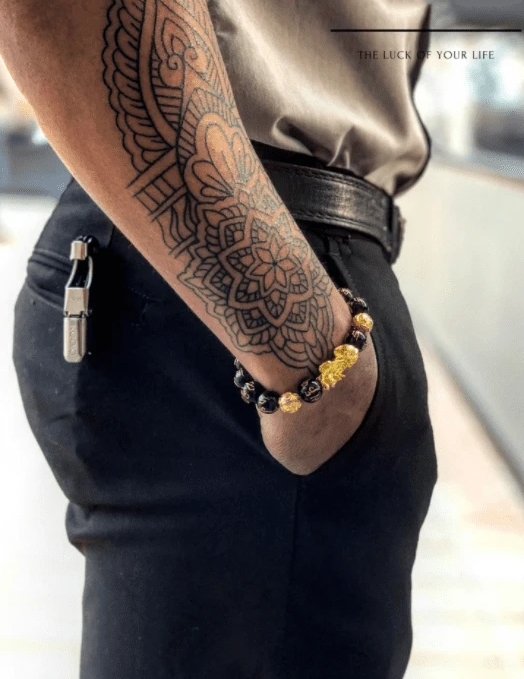 LEGEND STORY 
Long time ago in ancient times,there is an animal called Pi Xiu. It is the ninth son of the Dragon King. Gold, Silver and Jewels are all its food. It has a dragon head ,horse body and wings. It was so powerful that it could turn bad luck to good. Later on, people consider it as a symbol of wealth and good luck. Whoever's wearing the Lucky Obsidian Bracelet will also be lucky.
WHAT DOES IT FEAUTURES?
Pixiu represents wealth and luck. It's a wonderful way to attract positive energies, wealth, success, health and good luck into your life. 
Lucky Obsidian Bracelet is especially popular among business people, investors and gamblers in Asia and Europe. Attracting more wealth, more sales, more Income, love life and it provides you good finance..
If you have a partner, it's also reccomendable to get one for each other so for a great relationship luck. Or Consider Buying 2+1 FREE for yourself and for your father, mother, brother, sister or best friend.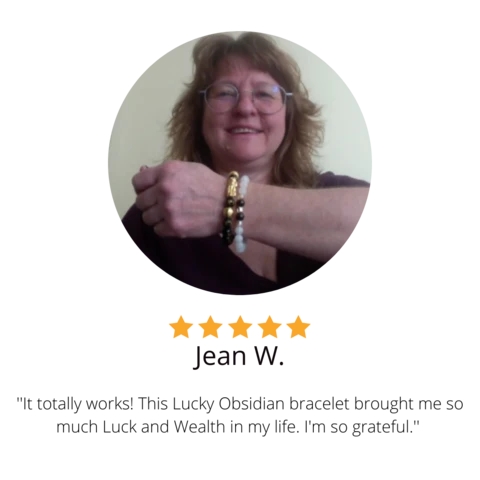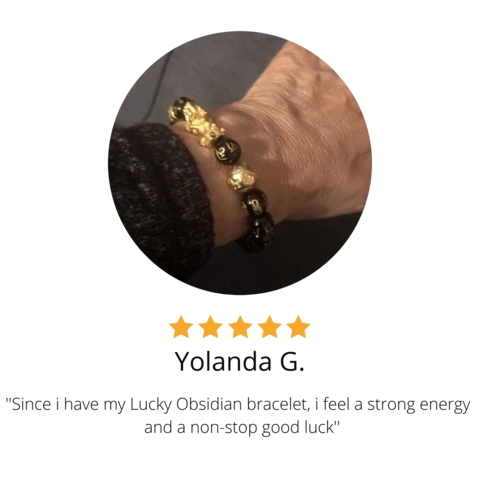 The Lucky Obsidian Bracelet provides a minimum of six blessings:
Conducts good luck and fortune
Generate good earth luck
Enhances wealth and money
It protects you and your love ones
Protects you against obstacles, and hardship
It brings unexpected windfall luck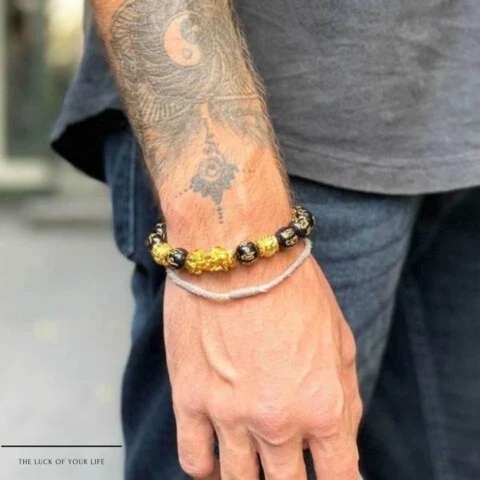 One of the popular ways to retain a Pixiu is to wear it on a bracelet.
In Feng shui, Pixiu (aka "Pi Yao" in some modern cultural translations) is the heavenly variation of a particularly powerful and auspicious creature of good fortune. They are said to have the power to assist anyone suffering from negative energy and bad lucks!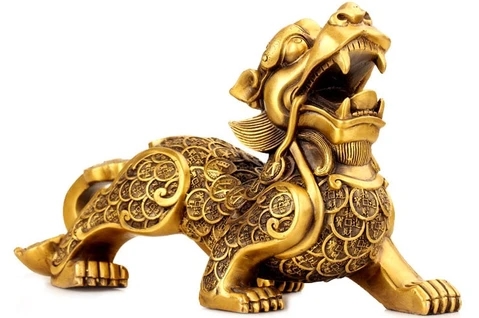 MANI MANTRA FOR HAPPINESS & POSITIVITY 
Om Mani Padme Hum, also known as the Mani Mantra, is the six-syllabled Sanskrit mantra. It is one of the most important mantras believed by practitioners of Tibetan Buddhism. According to Buddhist tradition, it brings happiness, luck and good fortune to its wearer.
ॐ - OM (ohm) purifies EGO
म - MA (mah) purifies JEALOUSY
णि - NI (nee) purifies PASSION
प - PAD (pahd) purifies IGNORANCE
द्मे - ME (meh purifies GREED
हूँ - HUM (hum) purifies HATRED
 ''This Bracelet gave me the opportunity
to be the person  i always wanted to be.''
-Robert Smith K.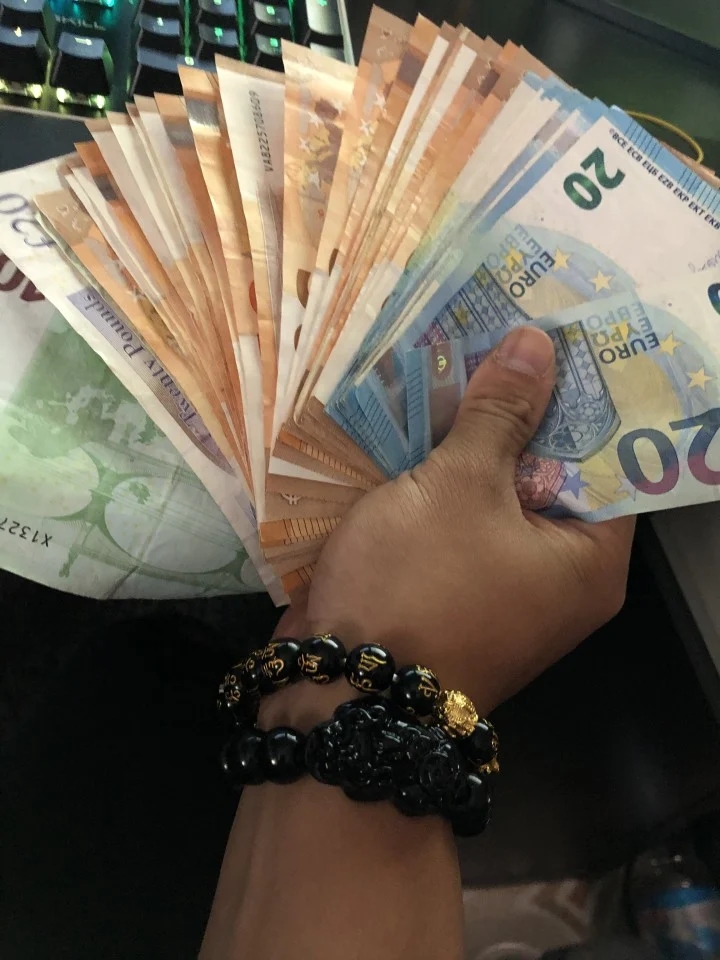 HOW SHOULD YOU WEAR IT?
The Lucky Obsidian bracelet is best worn by the left hand, rather than the right hand, as it is believed that if you wear it on the left, it symbolizes attracting good fortune and if you wear it on the right, your treasure is given to other people.
WHERE CAN I PUT IT IF I'M NOT WEARING IT?
When you are sleeping, bathing or any other situation you are not wearing, you should place it in the living room with the head facing towards the main door. It means you are willing to welcome all the luck in your house.
SPECIFICATION
Material:  Black Obsidian Resin
Beads Size: 12mm(0.47 inch)
Pi Xiu Size: 2.5cm (0.98 inch) 
Inner circumference: 17-20cm(Elastic)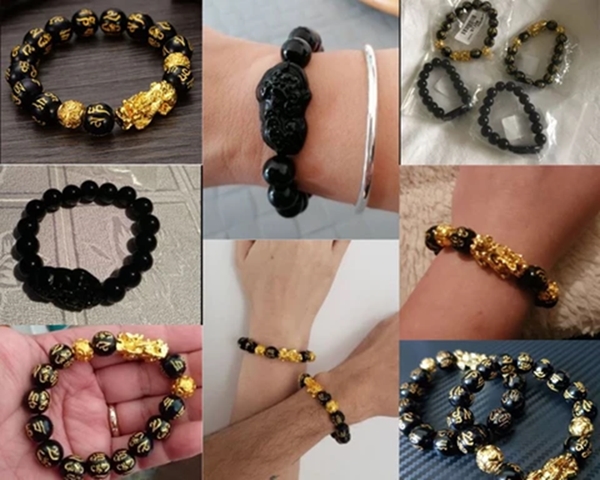 Our Guarantee
If you don't like the product, we will offer a 30-day refund for no reason